FAMOUS VETERAN SALUTE
---
Elvis Presley is the most famous veteran. He served in the U.S. Army from 1958 until 1960 and was assigned first to the Second Armored Division's 'Hell on Wheels' unit. After Presley, the most famous veteran is most likely Johnny Cash, Chuck Norris, Morgan Friedman, or Clint Eastwood. Keep reading to see the rest of the list.
While it's simply impossible to label with absolute certainty the most famous veteran, one way of answering the question is by analyzing what certain men and women did to achieve celebrity status before and after their life in the service. That being said, the ten people below are some of the most famous veterans and celebrities that you may not have known served in the military.
10. BEA ARTHUR
Bea Arthur is a famous veteran who enlisted in the Marines at age 21 in 1943. She worked as a truck driver and typist during her service and was one of the first members of the Women's Reserves. True to her Golden Girl image later, she was described as "argumentative" and "officious" but a good worker!
Photo Credit: United States Marine Corps portrait of Beatrice Arthur.
9. MONTEL WILLIAMS
Montel Williams, Emmy award-winning TV talk show host, is a famous veteran who served in both the Marines and the Navy after graduating from high school in 1974. Williams was the first black Marine accepted into the Naval Academy Preparatory School and the U.S. Naval Academy at Annapolis. He served in the military for 22 years. Williams has remained an advocate for veterans, education, and health, saying "In the nearly three decades since I retired from the Navy, I've never really taken the uniform off."
Photo: The Department of the Navy Superior Public Service Award is presented to Montel Williams March 19, 2008, in New York for his continuous support and recognition of servicemembers and their families throughout his 17 years on television.
---
---
8. STEVE MCQUEEN
Steve McQueen took his "bad boy" image into the Marines with him when he joined in 1947, but by his own admission "The Marines gave me the discipline I could live with. By the time I got out, I could deal with things on a more realistic level." He saved the lives of five men when their ship hit a sandbank during a training exercise in the Arctic.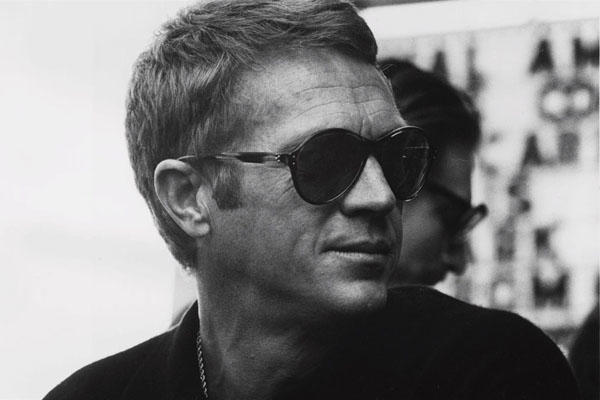 Photo Credit: Military.com
7. GEORGE CARLIN
George Carlin was an outspoken critic of the government in general, but dropped out of high school and joined the Air Force in order to access the GI Bill for broadcasting school. Carlin, a now famous veteran, was trained as a radar technician in the military but was continually disciplined until assigned to be a DJ while on active duty.
Photo: George Carlin at a book signing for Brain Droppings in New York City at Barnes & Noble
---
---
6. PAUL NEWMAN
Paul Newman joined the Navy to be a pilot, until it was discovered that he was color blind. He was then assigned as an aviation radioman and aerial gunner, a job that might have cost him his life in Okinawa. Instead, he and his crew didn't fly that day because their pilot had an ear infection. Newman was later discharged in 1946 with military honors that included the American Area Campaign medal, the Good Conduct Medal, and the World War II Victory medal.
Photo: United States Navy portrait of Paul Newman
5. MORGAN FREEMAN
Morgan Freeman joined the U.S. Air Force in 1955 instead of accepting a scholarship to college. His dream was to become a fighter pilot, only to face disillusionment when he discovered that he was "sitting in the nose of a bomb." He remained in the military until 1959.
Photo: Academy Award-winning actor Morgan Freeman narrates during the opening ceremony of the Invictus Games 2016 in Orlando, Fla., May 8, 2016. DoD photo by EJ Hersom
---
---
4. CLINT EASTWOOD
Clint Eastwood was drafted into the Army during the Korean War, and served as a swimming instructor at Ft. Ord. Those swimming skills saved his life when the Navy plane he was on had to ditch in the Pacific and Eastwood had to swim through shark-infested water to safety. He later used the GI Bill to study drama at L.A. City College.
Photo: Army Former Soldier and award nominee Clint Eastwood expresses his thanks to the men and women of the armed forces before the 79th Academy Awards at the Kodak Theatre in Los Angeles, Feb. 25.
3. CHUCK NORRIS
Chuck Norris joined the Air Force after graduating from high school with his eye on a career in law enforcement. He joined the USAF security police and began training in martial arts while serving in Korea. As a result of this training, he became the first Westerner to be awarded an eighth degree Black Belt in Tae Kwan Do. Norris has maintained his ties to the military by becoming a spokesperson for the VA and all hospitalized veterans.
Photo: Actor Chuck Norris poses with members of the 386th Expeditionary Security Forces Squadron Oct. 29, 2006. Norris, who was accompanied by actor Marshall Teague, met with service members and signed autographs. An Air Force veteran, Norris is known around the world for his starring role on the TV hit Walker, Texas Ranger. He also has starred in more than 20 motion pictures, including Delta Force, Missing in Action and Sidekicks. The actor is also an accomplished author and renowned teacher of martial arts. (AF photo/ Staff Sgt. Ian Carrier)
---
---
2. JOHNNY CASH
Johnny Cash enlisted in the Air Force after graduating from high school, just as the Korean War began. It was discovered that his ear for music helped him with the rhythms of Morse code and he became an intercept operator with the Air Force Security Service. Raised in a poor family, Cash wasn't able to buy a guitar until he received his military pay. His first band, the Landsberg Barbarians, was formed while he was still in uniform, too.
Photo: Entertainer Johnny Cash sings a duet with a Navy lieutenant during his performance for military personnel at the naval station.
1. ELVIS PRESLEY
Elvis Presley is probably the most famous veteran. He served in the U.S. Army from 1958 until 1960 and was assigned first to the Second Armored Division's 'Hell on Wheels' unit. From there, he went to Germany with the Third Armored 'Spearhead' Division. Presley was promoted to sergeant and honorably discharged in 1960 at Fort Dix.
Photo: Elvis Presley poses for the camera during his military service at a US base in Germany.