FEELING PATRIOTIC ON FACEBOOK
---
Facebook users can no longer add the Feeling Patriotic emoji to their posts. The option was disabled sometime between September 2018 and July 2019. We hope that one day, the "feeling of patriotism" will return to Facebook so that more people can mark posts that make them feel proud about our country.
Last Wednesday was World Emoji Day, an unofficial holiday celebrated every year since 2014. The day is deemed a "global celebration of emoji" and is marked by emoji events and product releases. As the AP notes, "new emoji routinely pop up every year. Earlier this year the Unicode Consortium approved 71 new variations of emoji for couples of color. Apple and Google unveiled their designs Wednesday to coincide with World Emoji Day…rolling out dozens of new emoji that include cute critters, of course, but also expand the number of images of human diversity." Generally, new releases by some of the biggest tech companies create the most headlines, and this year was no different for giants, Apple and Google.
Apple product users will have the ability to express their thoughts and actions by using everything from the "yawning" emoji to a "hang-gliding" character. There will also be the addition of the "walking-cane", "wheelchair" and "hearing" emojis to which the company said, "celebrating diversity in all its many forms is integral to Apple's values and these new options help fill a significant gap in the emoji keyboard." As for Google, the company will offer 71 versions of couples with different skin tones as well as emojis for the Diya lamp so that Diwali can be celebrated alongside Christmas and Thanksgiving. Users can expect to see these new emoji options later this year across devices. While adding emojis is something fun and exciting to track every year, big tech's emoji removal is something that gets less attention.
For example, as we were going through the process of creating a post on our Facebook page, we noticed that the social media giant has removed the ability to mark a post as "feeling patriotic". This is something we used to do from time to time as we posted pictures of the American Flag, history of the United States, or uplifting stories that make us feel proud to be American. For example, we marked the post below from September 21, 2018, as "feeling patriotic". A video from the Mile High Academy in Colorado was shared with us which showed a teacher explaining how to correctly fold the American Flag. The heartwarming video made us feel patriotic, and we marked it as such. Click here or the image below to watch the full video.
---
---
In a separate instance, we posted about the historic return of the USS Constitution after a two-year renovation. "Old Ironsides" is our country's oldest commissioned ship still afloat and after looking at pictures of the vessel both then and now, it left us "feeling patriotic". We marked our post as such. Click here or the image below to see the original post.
---
---
Last but not least, we would mark posts with "feeling patriotic" because they made us smile, made us feel proud to be an American, or simply because they promoted a sense of unity that our country so desperately needs right now. To that end, we posted the video below with a note to our followers that "dancing keeps you young". Click here or the image below to see the whole video.
---
---
At the end of the day, Tag The Flag is a brand dedicated to uniting our country and making Americans smarter. We post pictures of the American Flag to bring our country together and are home to America's only nonpartisan newsletter. We couldn't find an unbiased news source, so we created our own, and called it "America's Newsletter™". Each morning we provide our subscribers with "every view of the Red, White, and Blue" in order to get them ready for the day ahead. Mixed together with a little history and trivia, we believe it's all part of a balanced media diet that lifts people out of their echo-chambers, broadens perspectives, and leads to less angst, anger, and divisiveness. A big part of building our brand is by sharing content like the examples we mentioned above, all of which evoke a sense of patriotism. What Big Tech giveth', Big Tech can take away. For example, the recording below illustrates the inability to mark a post with the Feeling Patriotic emoji that can be seen above. Ultimately, we hope that one day the "feeling of patriotism" will return to Facebook so that more people can share what makes them proud about our country, and hopefully bring Americans closer together.
---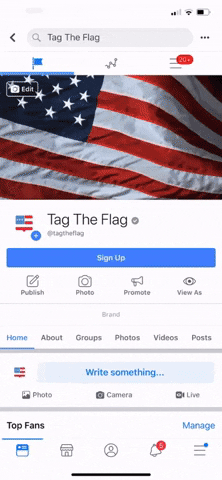 ---
Be sure to sign up for our nonpartisan newsletter to have "every view of the Red, White, and Blue" delivered directly to your inbox every weekday.