SALUTE
---
"Hey, that's my dad!"
The theft of a landscaper's truck, tools, cell phone, and most of his family's rent money, totaling about $3000, meant more to the officers of the Santa Ana Police Department than merely a complaint form recently. They identified with the victim of the crime, Adrian Salgado, in a personal way and knew they had to do something to help him get back to work as quickly as possible.
Sgt. Michael Gonzales expressed what many of his peers felt when he said that Salgado reminded him of his own father.
"We all come from working-class families," Gonzales said. "It was like, 'hey, that's my dad.'"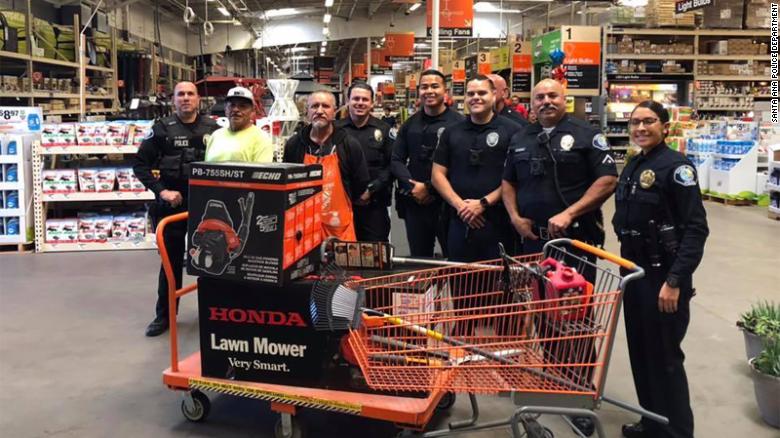 Photo: Santa Ana Police Department
---
---
Shortly after Salgado's daughter, Elizabeth, called 911 to report the theft of the family's livelihood, rookie officer Lysette Murillo got the ball rolling and started a fund to recoup as much of the loss as they could. The plan soon snowballed, with the officers initially collecting $500, which the Santa Ana Police Officers' Association matched. What they collected was enough for Salgado to begin buying replacement tools at Home Depot. After hearing the story, the hardware giant made the decision to contribute another $100 plus they offered a military discount to some of the officers who went along to help. Shoppers in the store at the time even chipped in to add to the fund.
---
---
The landscaper's pick up was tracked down by Salgado's daughter using an app on her iPhone, so he was soon back in the driver's seat for his business and his family. And adding further proof that there are good people left in the world, the suspect's grandfather found the stolen equipment in his backyard and returned it to Salgado at the Santa Ana Police Department.
"Now I can see my dad with a smile because he can go back to work," Salgado's daughter said. All thanks to the many Good Samaritans in Santa Ana, California who look out for their own.
---
Cover Photo: Unsplash